Support and Training for Chai Sutta Bar Franchisees in South India: What to Expect?
Are you an aspiring entrepreneur looking to venture into the booming food and beverage industry in South India? Consider the Chai Sutta Bar franchise, a rapidly growing brand that has taken the nation by storm with its unique concept and delightful offerings. Apart from the allure of owning a trendy chai café, one of the significant advantages of joining the Chai Sutta Bar family is its exceptional franchise training and support.
Let's first introduce ourselves. 
Introducing Chai Sutta Bar
Amidst this tea revolution, Chai Sutta Bar has emerged as a trailblazer in the fast food industry, offering a unique fusion of tea, food, and an inviting ambience. Chai Sutta Bar is known for its vibrant yet cosy atmosphere, where customers can indulge in various tea flavours while relishing delectable snacks.
What sets Chai Sutta Bar apart is its dedication to quality, authenticity, and innovation. From traditional chai recipes to modern concoctions, the Franchise Brand offers a delightful range of teas that cater to diverse palates. With an emphasis on using high-quality ingredients, the brand ensures that every cup of tea served is an experience worth savouring.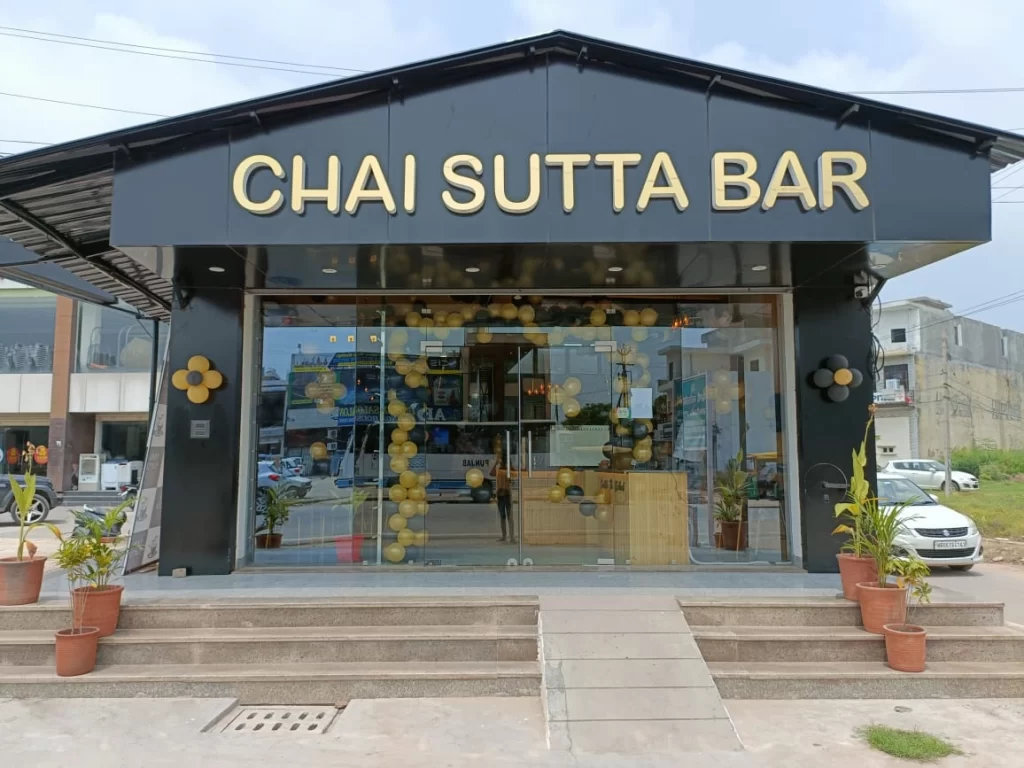 Benefits of Chai Sutta Bar Franchise
Investing in a Chai Sutta Bar Franchise Opportunities provides aspiring entrepreneurs with many advantages. 
Firstly, the tea franchise model offers a proven business framework, eliminating the need for entrepreneurs to start from scratch. The brand has established its presence and built a loyal customer base, reducing the risks of starting a new venture.
Secondly, the strong brand recognition enjoyed by Chai Sutta Bar. With a contemporary and trendy image, the brand appeals to the younger generation while captivating tea enthusiasts. This broad demographic appeal increases the potential customer base and enhances the chances of profitability. 
Another notable advantage is that Chai Sutta Bar provides its franchisees with franchise training and support. From site selection and store setup to marketing strategies and staff training, the franchise team guides entrepreneurs at every step, ensuring a smooth and successful business launch. Moreover, ongoing operational assistance, supply chain management, and regular product innovation keep the franchisees ahead of the competition.
Chai Sutta Bar provides a successful franchise business in South Indian cities like Chennai, Bangalore, Hyderabad, and other major cities of India.
What to expect as support and training from Chai Sutta Bar?
Comprehensive Onboarding Process:

When you become a Chai Sutta Bar franchisee, you can expect a structured onboarding process. The franchise management team will guide you through the necessary paperwork, legal formalities, and site selection to ensure a smooth start to your entrepreneurial journey.

Brand Training and Guidelines:

Chai Sutta Bar takes immense pride in its brand identity and consistency. As a franchisee, you will receive

franchise support and training on the brand's core values, operating procedures, and customer service. This ensures that each Chai Sutta Bar outlet reflects the brand's ethos, guaranteeing customers a consistent and delightful experience.

Product Knowledge and Quality Assurance:

The heart of Chai Sutta Bar lies in its premium-quality offerings. Franchisees undergo rigorous training in preparing various chai blends, sutta options, and delectable snacks. The focus is on maintaining the highest taste, hygiene, and presentation standards in line with the brand's reputation.

Marketing and Promotional Support:

Chai Sutta Bar provides strategic marketing and promotional support to create a buzz and attract customers. The franchisees benefit from national and regional marketing campaigns, social media promotions, and creative advertising materials. This ensures that your outlet gains visibility and becomes a go-to destination for chai enthusiasts.

Ongoing Assistance and Field Support:

The support doesn't end with the grand opening of your Chai Sutta Bar outlet. The franchisees receive continuous assistance from the head office and field support teams. Any operational challenges or concerns are promptly addressed, fostering a collaborative and nurturing partnership.

Menu Updates and Innovation:

To stay ahead in the competitive F&B landscape, Chai Sutta Bar regularly updates its menu with innovative offerings. Franchisees get access to new product launches, seasonal specials, and exciting promotions, keeping their outlets fresh and appealing to customers.

Vendor Tie-ups and Procurement Support:

As part of the Chai Sutta Bar network, you benefit from established vendor tie-ups, ensuring smooth procurement of ingredients and supplies. This saves time and effort, allowing you to focus on delivering an exceptional customer experience.
8. Community and Networking: Joining the Chai Sutta Bar franchise is about owning a business and becoming part of a warm and supportive community. Franchisees can network with fellow entrepreneurs, exchange ideas, and learn from shared experiences.
In conclusion, choosing to become a Chai Sutta Bar franchisee in South India offers a remarkable chance to be part of a rapidly expanding brand that emphasizes its franchisees' success. The extensive franchise training and support provide a conducive environment for your chai café to flourish and become a beloved destination for chai lovers across the region.
If you dream of serving soulful chai in a trendy ambience, consider Chai Sutta Bar your ideal franchise partner in South India. Embrace the aroma of success and embark on a thrilling entrepreneurship journey with Chai Sutta Bar!