Franchise Opportunities in Chennai: Unlock Success with Chai Sutta Bar as Your Gateway
Calling all aspiring entrepreneurs in Chennai! If you've been dreaming of owning a successful business and being a part of a thriving franchise, look no further than Chai Sutta Bar. With its unique concept and growing popularity, Chai Sutta Bar offers a fantastic chance to enter the booming franchise opportunities in Chennai.
In this blog, we'll explore why Chai Sutta Bar is your ultimate gateway to franchise success in the city. Chai Sutta Bar franchisees are already running in the Southern cities very successfully.
The Chai Sutta Bar Phenomenon:
Chai Sutta Bar has taken the Indian cafe scene by storm, captivating chai lovers' hearts and taste buds nationwide. Known for its rustic ambience, vibrant decor, and delectable range of chai and quick bites, Chai Sutta Bar has carved a niche for itself in the market.
By joining the Chai Sutta Bar franchise opportunities in Chennai, you become a part of this thriving phenomenon, benefiting from its widespread popularity and loyal customer base.
A Unique and Captivating Concept:
What sets Chai Sutta Bar apart is its unique concept that revolves around the love for chai and the camaraderie of enjoying it with friends over a smoke. The brand encapsulates the spirit of youth and freedom, offering a cosy and laid-back environment for people to unwind.
With its innovative menu, including various chai flavours, mouthwatering snacks, and beverage options, Chai Sutta Bar delivers an unforgettable experience to customers, keeping them coming back for more.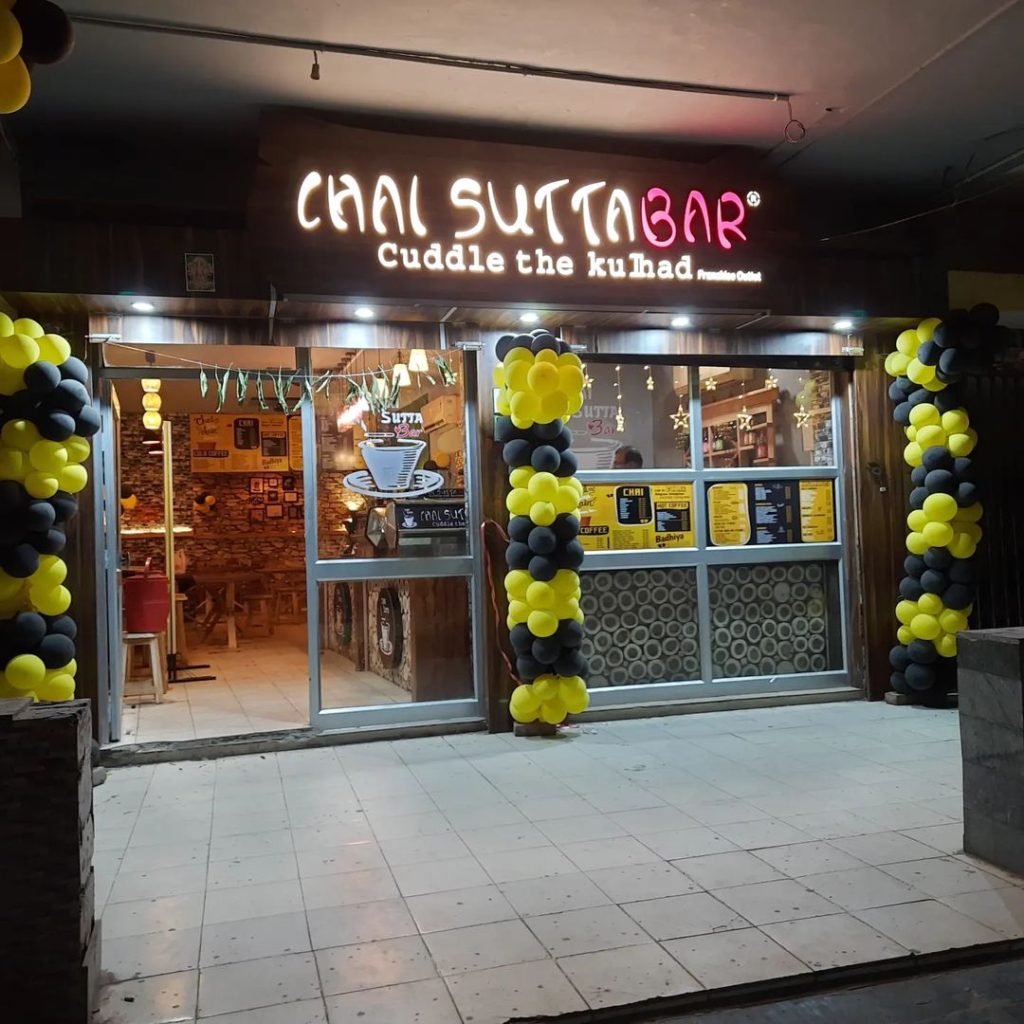 Brand Recognition and Marketing Support:
As a franchisee of Chai Sutta Bar, you benefit from the instant brand recognition and strong marketing support the brand provides. Chai Sutta Bar has already established a prominent presence across multiple cities in India, and now it's making waves in Chennai. 
The brand's marketing strategies, including social media campaigns, influencer collaborations, and targeted advertising, ensure maximum visibility and customer engagement. You gain a competitive edge in the local market by leveraging the brand's marketing prowess.
Also Read, Franchise Business in South India
Comprehensive Training and Ongoing Support:
Chai Sutta Bar understands that your success is their success. That's why they offer comprehensive training programs to ensure you have all the skills and knowledge necessary to run a successful franchise. You'll receive thorough guidance from operational processes, inventory management, customer service, and marketing techniques to kickstart your business.
Even after the launch, Chai Sutta Bar provides ongoing support, including regular visits from the support team and access to a dedicated helpline, empowering you to overcome challenges and thrive in the competitive cafe industry.
Prime Locations and Site Selection:
Chennai is a city known for its vibrant cafe culture, and Chai Sutta Bar helps you tap into this market by offering prime locations and expert site selection guidance. The brand's team assists you in finding the perfect spot for your franchise, considering factors such as foot traffic, visibility, and target audience. 
This strategic approach ensures that your Chai Sutta Bar outlet is situated in a location that attracts a steady stream of customers and maximizes your business potential. Chai Sutta Bar franchise in Chennai already exists and is becoming popular as days go by. 
A Profitable and Sustainable Business Model:
Franchise success is closely linked to profitability, and Chai Sutta Bar's business model ensures just that. With its carefully curated menu, efficient operations, and strong supplier relationships, Chai Sutta Bar offers a high potential for profitability.
 The brand's commitment to quality, affordable pricing, and constant innovation keeps customers returning, translating into recurring revenue for your franchise.
By becoming a franchisee of Chai Sutta Bar, you join a rapidly growing network of like-minded entrepreneurs and cafe enthusiasts. This network fosters knowledge sharing, collaboration, and support, creating a sense of camaraderie among franchisees.
 You'll have the opportunity to attend franchisee conferences, workshops, and networking events where you can exchange ideas, learn from each other's experiences, and stay updated on industry trends.
 The support and camaraderie within the Chai Sutta Bar franchise network are invaluable resources that can contribute to your long-term success. Right now, Chai Sutta Bar is the largest tea franchise in Bangalore, along with other South Indian cities.
Embrace the Growing Demand:
The cafe culture in Chennai is thriving, with an increasing number of people seeking unique experiences and flavorful beverages. Chai Sutta Bar taps into this growing demand by offering a cosy, welcoming space where customers can relax, socialize, and enjoy their favourite chai blends.
 By joining the franchise, you position yourself at the forefront of this trend, catering to the preferences of the local audience and capitalizing on the rising popularity of cafes in Chennai.
Sustainability and Social Responsibility:
Chai Sutta Bar is not just about serving great chai and delicious snacks; it is also committed to sustainability and social responsibility. The brand focuses on eco-friendly practices, including using biodegradable kulhads for serving and promoting recycling.
 Chai Sutta Bar also engages in community initiatives and supports charitable causes, demonstrating its dedication to positively impacting beyond the cafe walls. As a franchisee, you join this meaningful journey, contributing to a sustainable and socially responsible business.
Chai Sutta Bar presents an incredible opportunity for aspiring entrepreneurs in Chennai looking to enter the flourishing cafe industry. Chai Sutta Bar is your gateway to franchise success with its unique concept, strong brand recognition, comprehensive training, ongoing support, and profitable business model. 
By joining this growing network, you become a part of a vibrant community that values innovation, camaraderie, and social responsibility. So, if you're ready to embark on an exciting entrepreneurial journey, seize this franchise opportunity in Chennai and bring Chai Sutta Bar's flavours to Chennai's chai-loving population. Your path to Franchise Business success starts here!